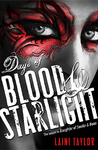 Plot: Once upon a time, an angel and a devil fell in love and dared to imagine a world free of bloodshed and war.
This is not that world.
Art student and monster's apprentice Karou finally has the answers she has always sought. She knows who she is—and what she is. But with this knowledge comes another truth she would give anything to undo: She loved the enemy and he betrayed her, and a world suffered for it.
In this stunning sequel to the highly acclaimed Daughter of Smoke & Bone, Karou must decide how far she'll go to avenge her people. Filled with heartbreak and beauty, secrets and impossible choices, Days of Blood & Starlight finds Karou and Akiva on opposing sides as an age-old war stirs back to life. ( read more here )
Days of Blood & Starlight by Laini Taylor
My rating: 5 of 5 stars
** spoiler alert ** My Review:
This second book is absolutely amazing. I was not able to put it down.
The impossible love between Karou and Akiva is heartbreaking. While I understand the fact that Akiva did not know the truth about Karou, she is definitely in her right to be mad with him. He did killed her family and I don't know how she will be able to pass over that fact and forgive him.
The struggles that Karou has to pass through in order to help her own kind is astonishing. I am bit confused as to why and how the pain is involved when she is doing the resuscitation. I am not sure if it was not well explained or if I somehow missed the explanation. But besides that I feel like the author has everything very well explained, to the point that I could feel the characters struggles.
I can't wait to see if Akiva and Karou are back together. I hope so, as feeling Akiva's pain for her is really heartbreaking and a bit unbearable. I was actually screaming a bit at Karou in my head when she was being a bit unfair towards him. However, I can somehow understand her decisions, but only because she is trying so hard not to let down her people. Though, I can't help but wonder if it's necessary for her to sacrifice. In the end the only bad thing she did was fall in love. I suppose we'll see what happens next, in the third book. 🙂
About the Author: Learn about Laini Taylor here 🙂
Thanks for reading! 💕📖
CB. 🌟🌟🌟🌟🌟 🧚‍♀️
View all my reviews
PS: Are you on Instagram? 🙂 So am I! You can follow me here